Written by Nathan Jones
Sunday, 05 March 2017 19:47
GWENT LEAGUE PHOTOGRAPHS (Alfie Pics)
Pembrey Country Park proves that West is Best; also includes updates from the Welsh U20 International, St Davids Day Races, Sportshall Athletics Finals, UK Inter Counties, Llanelli Half Marathon & Neath 10 Mile Race
Carmarthen Harriers' hosting of the final Gwent League Cross Country match of the 2016/17 season was hailed as a great success last Saturday (4th March). More than 1,000 athletes and a big turnout of spectators descended on Pembrey Country Park from all over Wales and the South West of England for the final fixture of an exciting league which had already visited Bridgend, Brecon, Bristol and Newport.
On a demanding course that showcased the counties park and the surrounding areas, the competitors aged 9 to 80 tackled fast grass sections, sand dunes, woods and paths with the course winning praise from all who attended.
Close to 50 Carmarthen Harriers represented the club in 10 races. Top individual performance of the day went to Ben Thomas where he shrugged off competitors who he was behind in previous competitions to dominate the under 17 race from start to finish. 'The fast sections of the course suited me' said the Strade pupil as he turned to look at his rivals a full 50 metres behind. Also running in the combined race with the under 20's was Callum Lovatt who battled well.
The most successful team was again the under 13 boys team where a group of 5 ran the two loops before Liam Edwards made a break for it as they came off the dunes. Edwards looked to be heading for victory before finally settling for second overall behind a Westbury athlete with schoolmate Frank Morgan close behind in 3rd. Team mates Llyr Davies, Dafydd Jones, Ioan Cressy- Rogers, Dafydd Thomas and Morgan Batten all came in the top 30 to win the overall league title with ease from Cardiff in a repeat of securing the Welsh Championship title a week earlier.
The under 11 boys entered a strong team. Ifan Bowen finished in an impressive second overall tussling with a strong Brecon athlete throughout the race; he led 3 times before succumbing in the final 50 metres to the older boy. He was followed in with outstanding performances from Iwan Thomas in 4th and a strong finish secured Jack Thomas 5th place in a field of more than 100 runners. Steffan Davies 27th was the 4th scorer for the A team and his points ensured that the U11B finished the season with silver team medals. The remaining 5 in this age group were Brynmor Peters 33rd, Huw Cressey-Rodgers 34th, Jake Lynock 38th, Cai Thomas 51st and James Sloyan in 60th place
In the under 15 boys Tomos Rees followed up his excellent 6th place in the Welsh championships with another strong run in amongst the leaders to finish 4th in a strong tactical field. He was closely followed by Gareth Thompson in 8th with his best result and Caspar Farquhar in 35th. The under 15 boys team, as with the under 17 men just missed out on a team medal in the top 5.
In the under 11 girls Milly John was the pick of the Harriers, coping well with the wind and the sand dune she finished in 15th just ahead of team mates Seren Davies (17th) Amy Greatrick (20th) Keira Carmody (21th) Bessy Hill (22th) Jessica Lee (32th) and on her debut for the club Freya Brabrook with a good run in 68th. Gwennan Wright was the sole competitor in the under 13 girls but ran well for 43rd spot.
The under 15 and under 17 girls had possibly their best team performances of the season coping well with the multi terrain course. The under 15 girls were led in by Eva Edwards and Beca Roberts in 16th and 17th before Siwan Jones-Evans (24th) and Louise Mear (29th) scored full team points, while in the older group Ceris Davies, Non Morgan, Cerys Davies and Grace Page all crossed the line in the top 15 in a small field, all working well together.
The senior races saw the largest finishers of 500 and in amongst them, Louise Jones Evans was the best Harrier in a quick time in 7th. Other runners included Gill Edwards 34th and Huw Davies 83rd performing well in their respective categories.
Overall the day was a resounding success with athletes and clubs tweeting their satisfaction with the course. It is hoped that with the success of this event that this will be a springboard to bring for future bids for the Welsh National Championship and even international running events.
@alfiepics
Hosting any sporting competition takes a lot of work ahead of and on the day: Carmarthen & District Harriers Athletics Club would like to thank Jake Morgan, Richard Stradling & Carmarthenshire County Council, Actif Sir Gar, Pembrey Country Park, Gwent League Cross Country, Alfie Pics, Dyfed Powys Police, St John Ambulance Llanelli, Cegin Fach Y Wlad, Sospan Road Runners marshals and all Harriers volunteers who all contributed towards a superb day - including set up / set down course team: some who were out on the course for 9 hours between 8:00am-5:00pm. http://www.gwent-league.org.uk/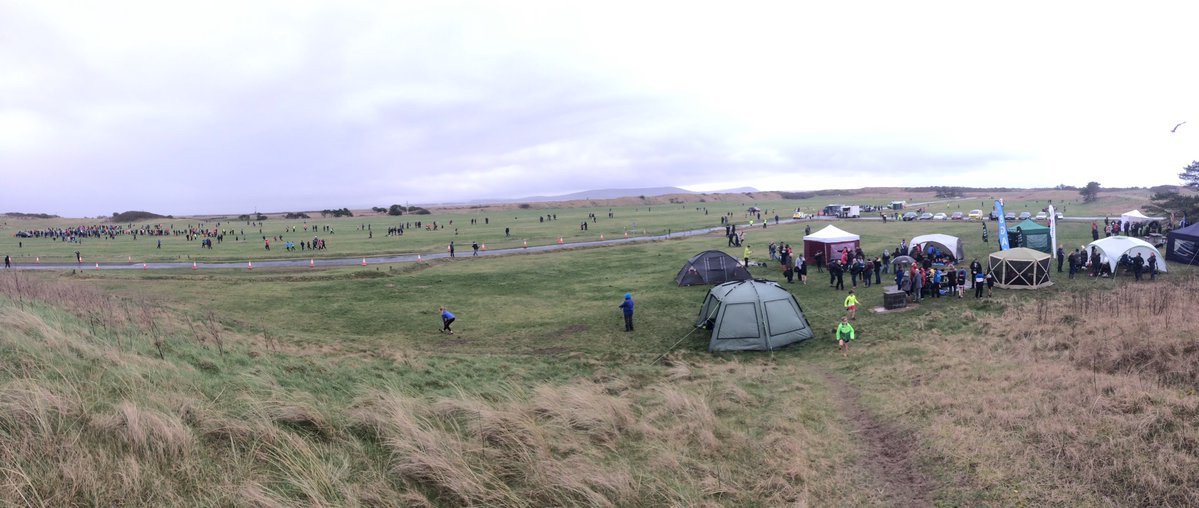 See more action and photos on the club Facebook and Twitter Pages. Alfie Pics was also taking event photographs and these will be available to view and purchase in the next few days.
A good day for Carmarthenshire and host club Carmarthen Harriers. Well done to everyone present from athletes to coaches and thanks to the officials for their work on the day at the start and finish.
Other Results / Canlyniadau Eraill
Wales U20 v England U20 v Wales U18 v England U18 - NIAC Cardiff
William Edwards was chosen to represent Wales in the Men's high jump and finished in 2nd in the U20 competition and 3rd overall jumping a best of 1.99m.
Match Score: Wales 162 England 243, well done to the two teams & guests with the event incorporating the 4x200m clubs relays and U15/Senior 3000m Welsh championships.

St Davids Day 2017 - Cardiff
5K Trystan Leech 19.08 10K Sharon Leech 40.50

Welsh Sportshall Athletics Finals - Cwmbran Centre
Athletes from 7 districts in Wales made the journey to compete in the 2017 finals. Dyfed schools athletes were represented with some who had impressed at the sportshall events held at Carmarthen Leisure Centre a few months back.  Congratulations to Toby Baldwin from Llandovery College for winning the under 15 boys all rounder event by finishing 1st in the 2 lap and long jump with a 2nd place throw in the shot. He will now be competing in the UK Finals in Manchester next month, good luck! Niamh Roberts and Victoria Rejinak came 2nd and 3rd respectively In the under 15 girls all rounder competition.
Dyfed Teams:
U13 Girls (4th) Ellie Loweth, Phoebe Davis, Nia Williams, Amy Mullen, Iona Melrose, Amy Tucker, Abbie Thomas, Nicole Squire, Isabell Sadler, Ellie Poffley, Zara Evans
U13 Boys (4th) Kieron Heaven, Ben Proctor, Shon Jones, Keiron Heywood, Daniel Kite, Stephen Reed, Luca Gianni, Kory Ash, Jamie Zygadlo, Tristan Nunes, Cai Ifans
U15 Girls (4th) Niamh Roberts, Victoria Rejinak, Elin Jones, Rebecca Williams, Ellie May Austin
U15 Boys (6th) Toby Baldwin, Lucas Steadman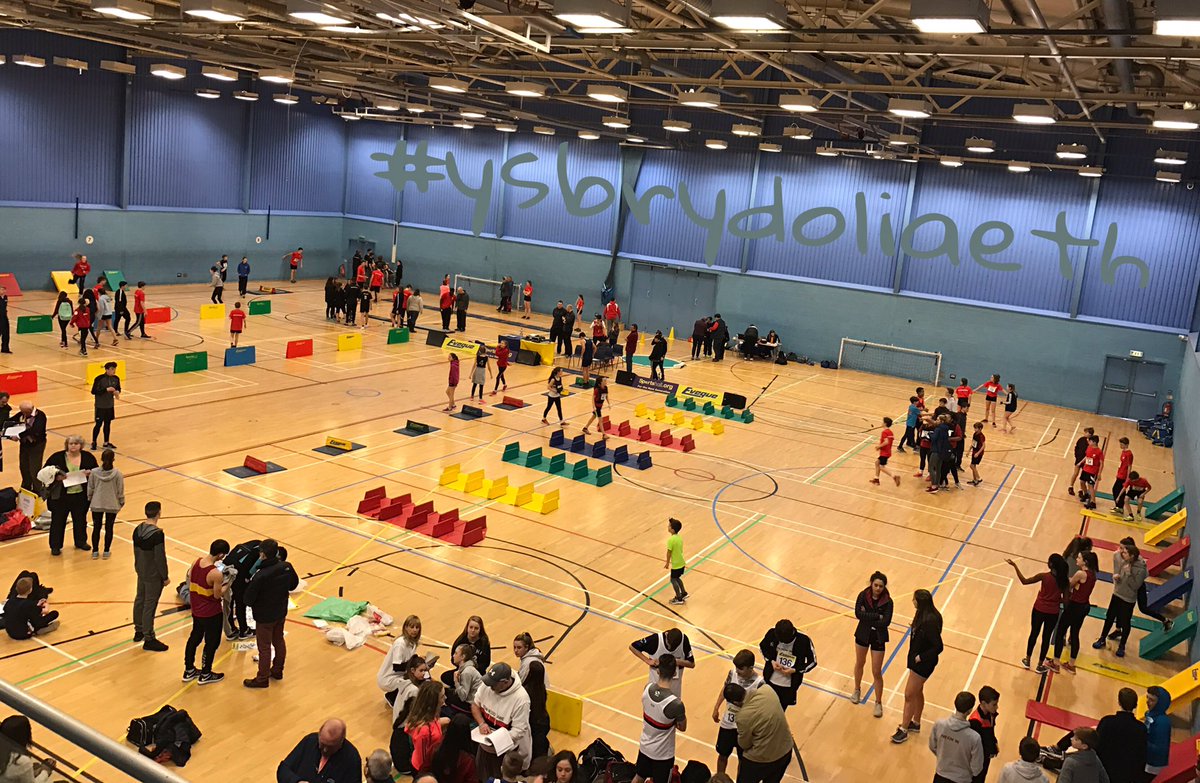 UK Inter Counties Cross Country Championships - Loughborough on Saturday 11th March
U13B Liam Edwards 00.12.53 (Pembrokeshire Iori Humphreys, Cian Harries & Iwan Lilley also running helping team to 24th) U15G Eva Edwards 00.19.36; U17W Cerys Davies 00.26.36; SM Huw Davies 00.57.59
Llanelli Half Marathon & Neath 10 Mile - Sunday 12th March
The Seniors from the Harriers were in action over the weekend in the Llanelli Half Marathon & Neath 10 Miler. In Llanelli the first Harrier home was Paul Clarke, running solidly at 6 minutes 29 pace the middle distance specialist showed a strong winter base that bodes well for the track season ahead. A finishing time of 1 hour 24 was just 10 seconds off his PB enabling him to finish 34th overall and 20th in his age category. Vince Bailey ran well in the V40 category finishing 105th overall and 21st category in 1 hour 32 whilst Lisa Forest also hit her target for the day in dipping under 2 hours to complete the race in 1 hr 59.
In the Neath 10 miler David Jones continued his comeback and with a strong run, came 7th overall in a strong field. He ran consistent sub 6 minute miles, recording a finishing time of 58 minutes 24. The former 8 min 40 3K Welsh international looks to be steadily re-gaining form as the season progresses. Jamie Best had a typically strong run to record a personal best for the distance of 64.45. Both runners are pictured below.