Written by Nathan Jones
Sunday, 22 January 2017 21:26
The first event reports & results of the new year comes from an action-packed weekend in Cardiff (x3), & Swansea (dates between 8-22 January)...
Catch up from the Brianne Schools Cross Country League (Llandovery) 12th January & Carmarthenshire Schools Y9/10 Indoor Sportshall Athletics 19th January:
Strong winter track Showing from Harriers at the National Indoor Stadium - January 8th & 15th
At the Welsh Athletics Junior Open, the year started the same way as the old one finished for Daisy Thompson who was the fastest junior open in the under 15 girls 800m finishing in 2.25.83 in the fastest heat of four. On the same day, promising year 6 athlete Sophia-Reid Thomas ran in the under 13 girls 60m and in her first big outing, she finished in an impressive 4th position in the overall category which featured 10 heats.
In one of the key indoor athletics meetings of the season 6 Carmarthen Harriers made the trip to the National Indoor Athletics Centre in Cardiff for the second Grand Prix of the season that this time incorporated the Welsh Masters indoor Championships.

In possibly the highest standard race of the day Carmarthen hurdler Glen Elsdon competed in the 60 metre sprint against a high quality field that included world championships medalist and Olympic finalist Dwain Chambers. Finishing 6th in a strong final he missed his PB by only 3 hundredths of a second with the clock stopping at 7.03 seconds.

In the other sixty metre sprint of the day Celyn Mai Williams tried the distance for the first time and won her heat to finish midway through the field. This was a very good run for the under 17 athlete competing against more experienced runners.

In the masters races Carmarthen Harrier Jake Morgan was the only representative of the club. Winning his age group categories in two races he took two Welsh Masters National Titles in the 200 metres (26 seconds ) and the 800 metres (2 min 12 seconds).

In the field events high jumper William Edwards jumped an excellent  personal best to record 2 metres and 5 cm finishing 4th against a strong field.

Finally there were solid new year competitive outings for Trystan Leech who gained a new personal best in the 800 metres (2 min 13) and Iestyn Williams in the 1500 metres where he finished in 4 min 32.
FULL RESULTS / CANLYNIADAU LLAWN
West Wales Indoor Athletics Championships 2017 - Swansea University Indoor Athletics Track
Saturday 21st January & Sunday 22nd January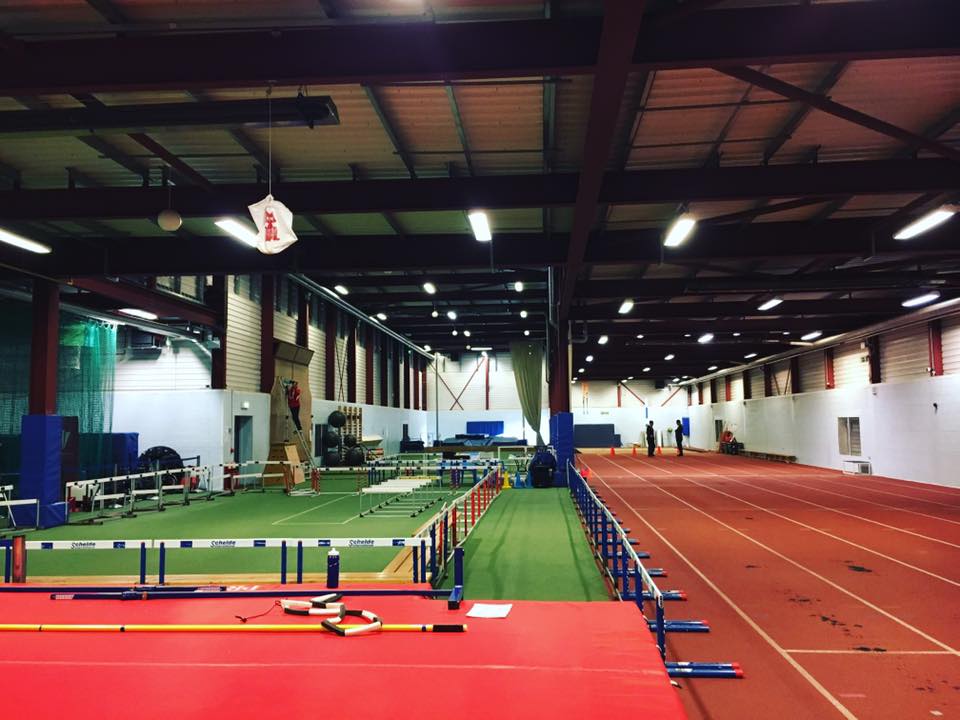 A record number of athletes entered for the 2017 West Wales Indoor Championships - a total of 315 sent in their entry forms ready to battle it out with their local friends from Swansea Harriers, Carmarthen Harriers, Pembrokeshire Harriers, Neath Harriers, Llanelli AC & Run4All. The championships were open to all age groups - from the young under 11 perhaps making their debut in a competition to the experienced and elite under 17/20s and seniors. West Wales medals were awarded to the top three in each event/age group. Because of the growth in competitors, in previous years the competition had been split into a two-day weekend for a successive year. Saturday saw the 60m hurdles, 60m sprint heats and finals along with all age group Shot take place while on Sunday the remainder of the field events was held, including long jump, triple jump, high jump and pole vault.
Carmarthen won a total of 9 medals
GOLD
U17M 60m Hurdles: Haydn Davies (9.07)
SM 60m Hurdles: Glen Elsdon (8.33)
SM 60m: Glen Elsdon (7.05)
U17W Shot: Danielle Jones (11.04)
U20W Triple Jump: Olivia Haines (9.85)
U15G High Jump: Lili Church (1.58)
U13G Long Jump: Zara Evans (4.06)
BRONZE
U17M 60m: Zak Daly (7.54)
U20W Long Jump: Olivia Haines (4.52)
Other performances came from:
Under 13 Girls 60m:
Sophia-Reid Thomas (6th in the final 9.04)
Jessica Lee (9.55 heat)
Mia Lloyd (10.42 heat)
Under 13 Boys 60m:
Harri Howells (9.30 heat 7th)
Owain-Hari Davies (9.30 heat 8th)
Under 15 Girls 60m:
Siwan Jones-Evans (4th in the final 8.59)
Under 15 Boys 60m:
Stephen Reed (8.60 heat)
Under 17 Men 60m:
Haydn Davies (5th in the final 7.65)
Under 13 Girls Shot:
Jessica Lee (4.94)
Under 15 Girls Shot:
Nia Williams (8.02)
The West Wales Championships could have not run without the help of the volunteers in front of and behind the scenes including Andrew Jenkins the Meeting Organiser, Donald Melrose the Officials Secreatry and Rebecca Gatt the Dyfed Network Officer along with all the help from the track judges, timekeepers, starter, marksman, field judges, photofinish and the mums/dads on admin.
Well done to all those who competed at the Swansea University Indoor Athletics Track over the weekend, and now look forward to the outdoor championships on May 14th.
FULL RESULTS / CANLYNIADAU LLAWN from Saturday & Sunday
British Athletics Cardiff Cross Challenge 2017 - Blackweir Fields, Cardiff
Sunday 22nd January
The series incorporates five key fixtures across the autumn and winter season as thousands of athletes seek to become Britain's best cross country athletes. The fourth British Athletics match came to Wales and Cardiff on Sunday. The Cross Challenge offers five high quality and competitive cross country opportunities for athletes which culminate with the series finale, being held in Loughborough for the first time in March 2017.
There was a good number of Carmarthen Harriers athletes who made the journey up to Cardiff for this big occasion. There were some great performances by all who competed alongside the best in the United Kingdom, including top ten finishes for several of the youngsters. The top Welsh Athletes had been selected in the under17's up to compete at the Celtic Cross Country International. Ben Thomas was one of those selected to compete for Wales. The primary school boys team again won the overall team trophy, holding on to what they had won also in 2016. Here is how they all got on:
Primary Schools Girls: 22 Emma Brazier; 23 Bessy Hill; 51 Martha Morgan
Primary Schools Boys: 3 Jack Thomas; 5 Iwan Thomas; 17 Steffan Davies; 32 Jake Lynock; 44 Brynmor Peters
Under 13 Girls: 5th Daisy Thompson; 22 Phoebe Davis
Under 13 Boys: 6th Liam Edwards; 8th Dafydd Jones; DNF Frank Morgan
Under 15 Girls: 47 Beca Roberts; 54 Siwan Jones-Evans
Under 15 Boys: 6 Tomos Rees; 14 Archi Morgan; 22 Gareth Thompson
Under 17 Women: 33 Ellie Kiff
Under 17 Men: 12 Wales International Ben Thomas; 36 Thomas Jones
Senior Women: 1 Louise Jones-Evans
Senior Men: 5 Gordon Orme
In another top individual of the day, The Senior men's result was never in doubt as local Carmarthenshire runner Dewi Griffiths (Swansea Harriers) won for the second year. (British Athletics)
Griffiths' performance exuded confidence as he opened up a 100m lead on the first short lap; his front running tatics were clar to see. The Welshman, who has just returned from a Welsh Athletics warm weather camp in Tenerife, was showing the signs of a good block of training as he ate up the ground in front of him. However, compatriot Kristian Jones (Swansea) continued his recent impressive form to keep the British international athlete within his sights as the race unfolded. However, he could not bridge the gap and Griffiths won this event for the second year in succession.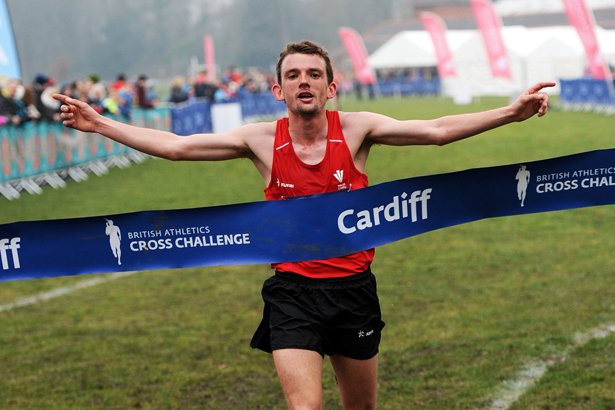 Dewi spoke afterwards and said: "I've just come back from a Welsh endurance camp in Spain - I trained well there but you never know how the legs will react on your first race back. Fortunately my strength was there maybe not my top gear but I had enough to win and that's what I cam here to do" Da iawn Dewi!