Written by Nathan Jones
Sunday, 10 July 2016 20:25
Latest Club & School Results Round Up from another busy period including 6&10 July: plus items on the Ammanford Junior Fun Run, West Wales Endurance Day, Masters, Committee Meeting, Mile Run & Dewi Griffiths.
NASUWT Cymru Cup & Plate Schools Athletics Final @ Brecon - 6th July
After the success of the Welsh Nationals Athletics in Cardiff, it was the turn of school teams to make the most of their opportunity at arguably the biggest grass roots competition for secondary schools in the summer term - the NASUWT Cymru Cup & Plate Finals held at Penlan Arena Track in Brecon on 6th July.
The Cup competition had been organised each year since 1988 while the Plate final was added in 2007. Forty schools from across the eight districts in Wales qualified to field sixty four teams at the Finals. Over 20 new championships records were recorded thanks to the dry and warm conditions.
Picture: The Sprint Hurdles get thing underway at the NASUWT Final
Six schools from the Dyfed district won their respective age groups in the Haverfordwest area final last month and travelled to Brecon looking to compete with the best in the country in a competition full of high standards. The best result of the day came from the Bryngwyn junior boys, who were the plate winners.
Picture: 200 metres junior girls finalists in action
Dyfed Schools performed very well against excellent athletes; Results: Bro Myrddin, Brianne (Junior Boys Cup 6th) Sir Thomas Picton, Pembrokeshire (Junior Girls Cup 7th & Middle Girls Cup 4th) Dyffryn Aman, Brianne (Junior Girls Plate 5th & Middle Boys Cup 2nd) Bryngwyn, Llanelli (Junior Boys Plate 1st) Preseli, Pembrokeshire (Middle Boys Plate 2nd) and Bro Dinefwr, Brianne (Middle Girls Plate 4th)
Louise Arthur League 4th meeting @ Brecon - 10th July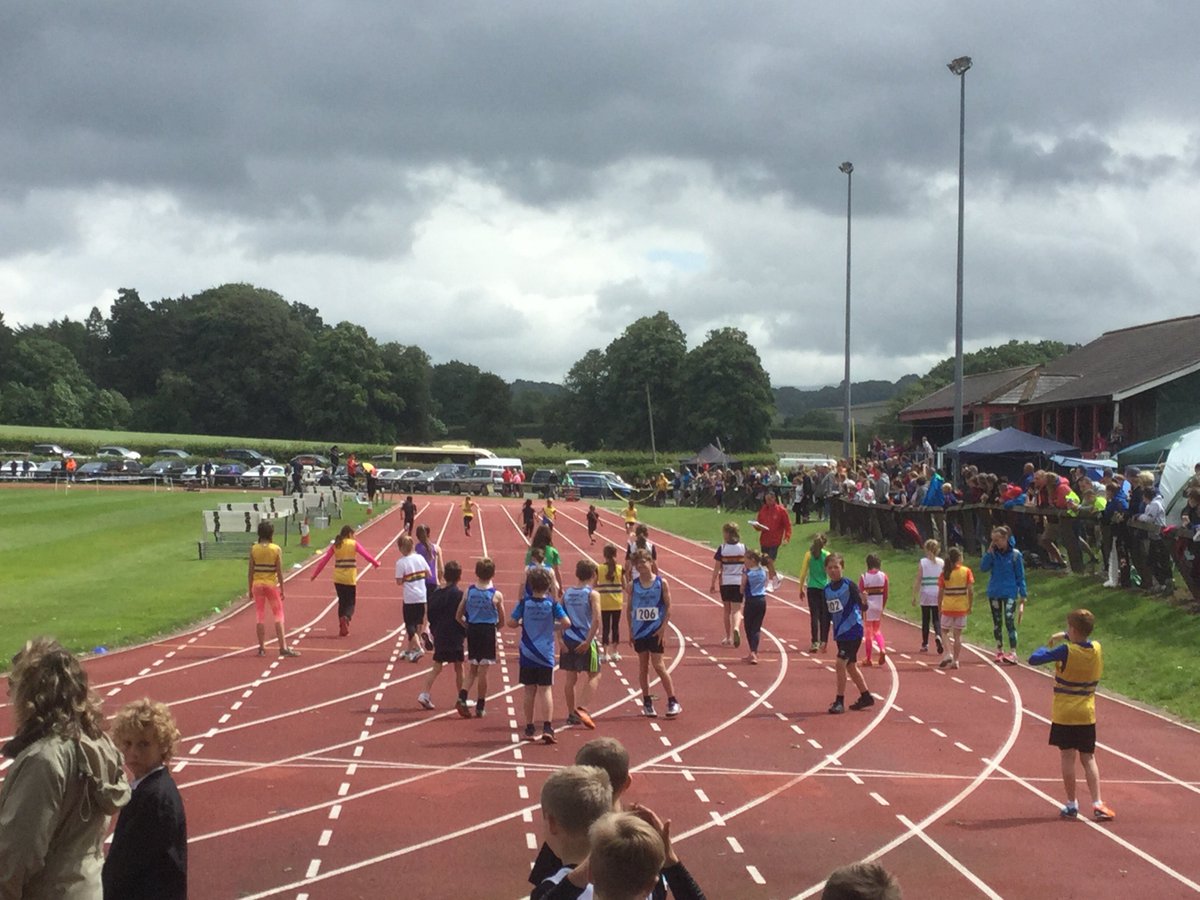 Another Louise Arthur League Season has come to an end...Carmarthen finished in third and over 100 harriers contributed towards this throughout the four matches
The fourth and final league match of the Louise Arthur League this season was completed at Penlan Arena, Brecon on the 10th of July and confirmed their place again in the end of season Cup Final in third place.
The team was down slightly on the usual numbers this year. Around 55 Carmarthen Athletes made the journey up the A40 to mid Wales to compete, with a big number of other members unavailable due to holidays and other end of term activities. On the day, Carmarthen battled well to finish for the fourth time this season in third position after a close competition.
As Brecon was the final league match, clubs now go forward to the Plate and Cup Finals in Newport at the end of August. Carmarthen will be joined by our friends at Swansea, Pembrokeshire and Neath Clubs from the West and another three East and one North club.

.@WelshAthletics U15 Lge Cup Final Clubs @NewportHarriers, @CarmsHarriers, Pembrokeshire Harriers, @neathharriersac 2 of Sun 21st August
Sunday 10th July - Club Athletes listed (A full publish link of athlete recognition for the LA from the club will appear in the coming days/week, keep checking)
Under 11s/O dan 11: Harri Howells, Iwan Thomas, Ifan Bowen, Jake Lynock, Owain-Hari Davies, Steffan Davies, Tomos Lewis - Sophia Reid-Thomas, Annabella Leahy, Hanna Evans, Leia Vobe, Amelia Leahy, Ceindeg Evans, Jessica Lee, Ella Davis, Milly John, Seren Davies, Bessy Hill, Cordeila Walker, Efa James
Under 13s/O dan 13: Iestyn Gwiliam, Liam Edwards, Morgan Batten, Frank Morgan, Jac Walters, Shon Jones, Joshua Morse, Dafydd Waters, Cai Ifans, Griff James, Jac Thomas, Harry Leahy, Dafydd Jones, Taran Yate, Steffan Lewis - Phoebe Davis, Chloe Davies, Thaia Davies, Sadie-May Mason, Megan Rees, Gwenno Roberts, Nia Williams, Isobelle Ellsmore
Under 15s/O dan 15: Daniel Morse, Louis Fox, Gareth Thompson, Owen Palmer, Archi Morgan, Nicholas Evans - Eva Edwards, Siwan Jones-Evans, Olwen Batten, Rebecca Williams, Olwen Batten, Maddie Morgan, Elin Jones, Lili Church, Hawys Evans
In Other News from earlier in the month... June/July Updates
Event Coverage from local Fun Run in Carmarthenshire!
Ammanford Junior Fun Run 2016: On Monday (27th June), the Annual Ammanford Junior Fun Run took place at Ammanford Leisure Centre Athletics Track, re-arranged for 12 days later as the original date had to be postponed due to the bad weather and unsafe conditions for the runners. The event was organized by the local running club, Amman Valley Harriers and it was kindly sponsored once again by Noelwyn Daniel at Healthy Life Activities, who kindly provided the finisher's medals and trophies to all the athletes along with race commentary. Under new organization the event altered slightly to previous years, with a separate race for the reception kids and after a few years out, the comprehensive race for Years 7 and 8 came back in. The first race was 1 lap with the remaining 4 races over a distance of 2 laps of the track (800m) with the finish under the arch inflatable in the middle of the field.
Picture: Reception children get involved in running at the fun run
The conditions were perfect for the runners second time round, with the sun coming out in time for the start. The crowds turned up to support this local event in Carmarthenshire which has become one of the most well attended athletics events for primary schools children. The interest shown with schools this year was clear to see in the entries received, with a record number up from 180 in 2015 to a total of 249 young runners, with the highest number of entries in the Reception Boys and Girls. They were all cheered on by the few hundred spectators and parents who lined the side of the track, looking at all the smiling faces as they completed their run. All children who finished on the night received a medal and in addition those who finished in the top three of the Years 1-8 were also presented with a trophy.
Picture: start of the Year 3 & 4 boys fun run...
Top 3 Age Group Results:
Years 1 & 2 Girls: 1. Charlotte Mary, Llandovery College 2. Martha Morgan, Teilo Sant 3. Mabli Collier, Pontyberem; Years 1 & 2 Boys: 1. Ewan Brazier, Llandovery College 2. Owain Jones, Rhydaman 3. Luca Bergs-Williams, Llandovery College
Years 3 & 4 Girls: 1. Candice Clancy, Ffairfach 2. Emily Mary, Llandovery College 3. Fflur Thompson, Y Dderwen; Years 3 & 4 Boys: 1. Ifan Bowen, Y Dderwen 2. Ellis Penfold, Llangennech =3. Matthew Jones, Rhydaman =3 Max Toogood, Teilo Sant
Years 5 & 6 Girls: 1. Amy Tucker, Pentip 2. Delyn Waters, Rhydaman 3. Mia Williams, Bro Banw; Years 5 & 6 Boys: 1. Sam Potter, Rhydaman 2. Cai Lewis, Brynaman 3. Sion Davies, Rhydaman
Years 7 & 8 Girls: 1. Daisy Thompson, Bro Myrddin 2. Clara James, Maes Y Gwendraeth 3. Lucy Davies, Dyffryn Aman; Years 7 & 8 Boys: 1. Jac Chapman, Dyffryn Aman 2. Steffan Thomas, Bro Dinefwr 3. Logan Donnelly, Maes Y Gwendraeth
Link for 127 photos for Harriers Coverage (Facebook) https://www.facebook.com/CarmarthenHarriers/photos/?tab=album&album_id=487511658108802
West Wales Endurance Day in June: The new set up through Welsh Athletics - a West Wales Endurance Day was set up in Carmarthen Leisure Centre and several harriers members were invited to the day which consisted of meeting with a introduction on the way forward in Wales followed by a drills workout and then on to do a endurance session on the track led by Delyth Brown, Steve Glynn, Andy Thompson and several coaches from the West...then after lunch they were introduced to some strength and conditioning in the gym for two hours, which is vital to all athletes to maintain their posture whilst running. All athletes, parents and coaches learnt something from the day. The next one is planned for September and look forward to inviting again, thank you all for attending. There is a criteria for selection and any queries should go to Delyth Brown down on the track.
Welsh Masters Championships 2016: results has finally come through, held at Penlan Arena, Brecon on Sunday 3rd July; Results from the 2 Harriers Involved:
Paul Clarke: 400m 57.6; 800m 2.07.6; 1500m 4.36.4
Sharon Leech: 1500m 5.27.6
Carmarthen Harriers Latest Committee Meeting: held on Monday July 4th at the Ivy Bush Hotel, Carmarthen:
Meeting Latest / Cyfarfod Diweddaraf - Minutes
Night of Endurance Running: Saturday 9th July @ Cardiff International Stadium
Daisy Thompson (U13G) took part in the 1 Mile Race, finishing in 5.26.81
Ammanford 10K Annual Road Race: Sunday 10th July @ Ammanford Recreation Ground - well done to all 134 finishers!
Full Results / Canlyniadau Llawn
AND FINALLY! European Champs: Well Done and congratulations / Da iawn a llongyfarchiadau - to former Harrier Dewi Griffiths @dewigriff10k Pb of 28.28.55 for a final position of 5th in the European 10,000m final at Amsterdam on Friday evening (8th) - Did not appear to be overawed and ran a fine competitive race for a great personal best. Everyone in Wales is very proud of him.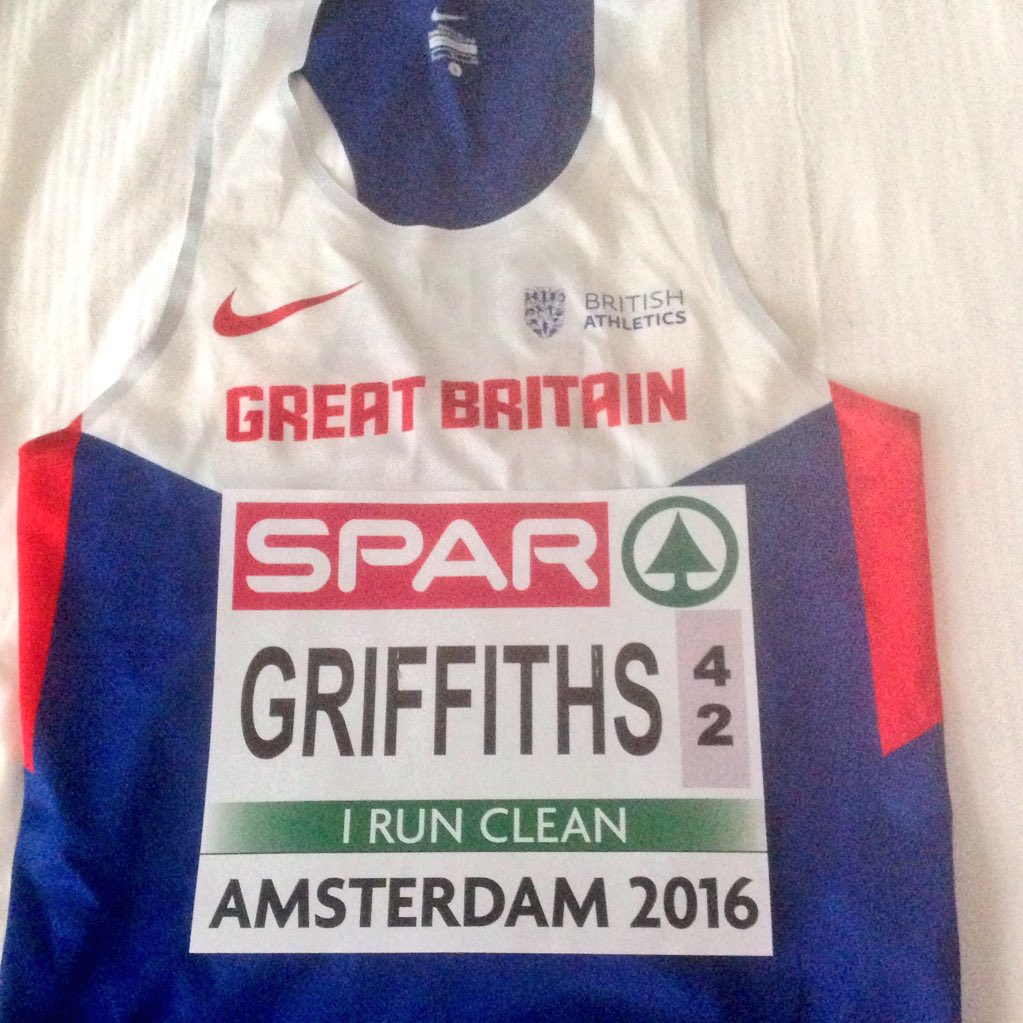 @CarmsHarriers @WWalesAthletics & Facebook - on Social Media