Written by Nathan Jones
Monday, 30 May 2016 16:08
Events / Digwyddiadau - Another busy last fortnight for Carmarthen Harriers / West Wales Athletes:... reports and pictures from eight events including Swansea Louise Arthur and other venues.
1. Avon AA Open Meeting in Bristol (Tuesday 24 May/24 Mai)
Tomos Rees, Iwan Glynn and Ben Thomas travelled across the bridge to take part in this open meeting looking for improved times, on a good evening of high standard competition, they came home from England with 4 personal bests out of a possible 5. In the 800metres mixed races, Ben recorded a time of 2.09.01 in the 1st of seven heats while in the 2nd, Tomos and Iwan worked together to finish in 2.11.11 and 2.11.64 respectively to ensure a few seconds off their previous best times. It also saw many sprinters in action in the 100 up to 400 distances. In the 300metres, Iwan won the heat in 41.79, just missing out on the personal best recorded in the West Wales champs. Ben ran in the 400metres also and a time of 55.98 will look to build on next time.
http://www.thepowerof10.info/results/results.aspx?meetingid=165350
2. Welsh Athletics Open Jumps & Throws Evening / 3. Whitford Point Multi Terrain Race Gower (Wednesday 25 May/25 Mai)
A very small field turned out for the first of 4 Open Meetings, at Swansea University organised by Welsh Athletics. There will be further sprints and endurance meetings being held during June & July. In Swansea, Sophie Pick, only senior cleared 1.50m in the Women's High Jump.
There was a total of 140 finishers at this year's Whitford Point Multi Terrain Race held down in the Gower - Sharon Leech finished 42nd overall and the first Female 45 home (0.42.31)
Lovely Thursday Evening sunset at the Throws Evening on Thursday
4. Carmarthen Open Throws Meeting 2 (Thursday 26 May/26 Mai)
A perfect Thursday Evening in Carmarthen for throwing and looking for personal bests...34 competitors from 7 clubs (Swansea, Bridgend, Neath, Pembrokeshire, Carmarthen plus from afar Cardiff and Wrexham) competed at the second of four Carmarthen Harriers Open Throws Meeting organised by Ralph Siggery. Once again, there was a good turnout of athletes and spectators, and in particular there was an experienced and competitive field in the Discus competition which took place following the Javelin. Some in action included James Tomlinson (U17) who threw that massive 58.93m in the West Wales champs, and we were also delighted to welcome Aled Davies - the Paralympic & GB thrower who will be looking for selection to Rio in the summer. We'd like to thank Aled for coming down to Carmarthen and sure that many of the younger athletes present would have been inspired by his attendance. On the evening, Aled's best throw was 52.56m. As usual, there was a good turnout from the junior and senior Swansea field competitors. Look forward to seeing you all back for the next event on Thursday 23 June!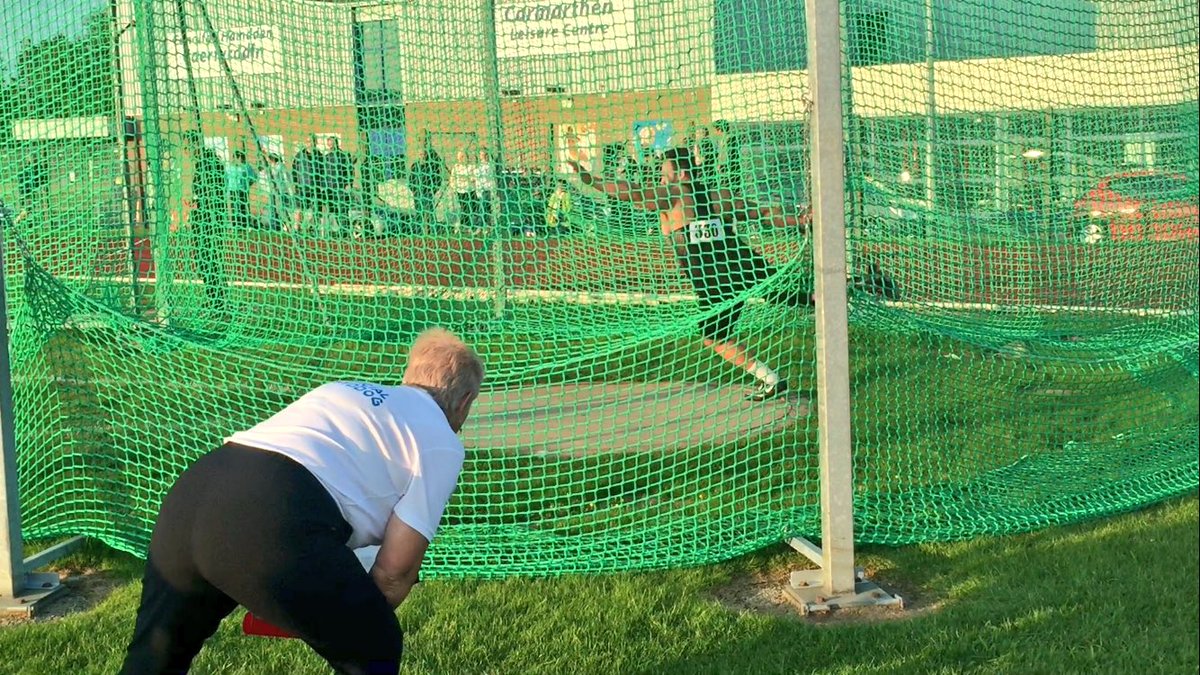 Aled Davies in action at the Carmarthen Throws Evening
http://www.carmarthenharriers.co.uk/images/PDF/Races/carmarthen_throws_may_results.pdf
5. Talley 1K & 5K Fun Run (Friday 27 May/27 Mai)
Annual Fun Run Event for all ages at the Talley Abbey near Llandeilo - Results from 27th May 5K
Archi Morgan - 1st U18 Male (18.04) Phoebe Davis - 1st U18 Female (20.34) Callum Lovatt - 3rd U18 Male (18.56) William Thompson - 4th U18 Male (20.07) Cerys Davies - 4th U18 Female (23.40) Huw Davies - 11th M40 category (20.48)
No 1K Results available at the time of publishing, so can't unfortunately name individual athletes.
6. Louise Arthur League U11/13/15 (28 May/28 Mai and 5 June/5 Mehefin)
Busy one in Neath on Saturday...450 athletes
The second and third league match for Under 11's 13's and 15s took place up the M4 at Cwrt Herbert Sports Centre track and Swansea University, moving to the next round venue after the first match in Carmarthen. In particular there was plenty of strength in depth in the under 11 and under 13 age groups, and both fixture was another successful team performance, and at least 80 young juniors all contributed to its best result to date in the Louise Arthur League.
There were several making their debuts for the club in a competition - well done all, hope you all had a good time in difficult conditions in the heat
Carmarthen athletes 2nd/3rd matches: (provisional Friday teams)
All athletes who compete for the club in the LAL regularly will be always added to reports during the summer, with a long list once the season is over!

Under 11's: Steffan Davies, Brynmor Peters, Owain-Hari Davies, Ifan Bowen, Jake Lynock, Harri Howells, Finlay Clyde, Tomos Lewis, Iwan Thomas, Meilyr Thomas, Efa James, Cordeila Walker, Hanna Evans, Leia Vobe, Sophia-Reid Thomas, Annabella Leahy, Seren Davies, Jessica Lee, Ella Davis, Bessy Hill, Milly John, Emma Brazier, Amelia Leahy
Under 13's: Dafydd Jones, Guto Thomas, Griff James, Morgan Batten, Tomos Roberts, Taran Yate, Cai Ifans, Jac Walters, Harry Leahy, Steffan Lewis, Frank Morgan, Jac Chapman, Joshua Morse, Dylan Pearce-Taylor, Dafydd Waters, Shon Jones, Phoebe Davis, Gwenno Roberts, Nia Williams, Chloe Davies, Thaja Davies, Sadie-May Mason, Swyn Dafydd, Olivia Lloyd-Evans, Daisy Thompson, Megan Rees, Lylyanna Harrall, Zara Evans, Ellie Loweth
Under 15's: Rhodri Peters, Bedwyr Thomas, Archi Morgan, Owen Palmer, Iwan Glynn, Tomos Rees, Gareth Thompson, Ryan Thomas, Nicholas Evans, Aaron Kerr, Rebecca Williams, Abbie Painter, Ellie Tromans, Maddie Morgan, Laurie Thomas, Olwen Batten, Lili Church, Hanna Lewis, Emily Shawyer, Elin Jones, Ffion Pugh, Eva Edwards

7. Young Development League U17/20 - West Wales Premier West (Sunday 29 May/29 Mai)
YDL Upper Age Group - Premier West Division Results
Last Sunday, the West Wales Composite U17 and U20 team consisting of Carmarthen, Pembrokeshire, Neath and Llanelli athletes & friends travelled to Spytty Park in Newport to compete in the second match of a very competitive and tough UKYDL Premier West Division match featuring top class athletes across South West England and South Wales. All in all, everyone from athletes and officials to parents had another great and successful day out, thankfully this time with no transport problems. After a great third place finish in the first match down in Plymouth at the start of the month, it was important to have another good team turnout and they did not disappoint. As a result, the team achieved fourth place this time behind the ever strong Avon & Devon teams and a well turned out Cardiff club, who were making use of their local event. (4th in the overall table) The team are well on course to retain their position in the Premier division for another season.
Some of our West Wales athletes in Newport after the relays
JUNE: We now look very much forward to the West Wales' home match which is being held in CARMARTHEN on Sunday June 26 where all athletes will be asked to make every effort to attend. Carmarthen Harriers & West Wales Athletics are already planning ahead for the big meeting in a few weeks time. Let's make it a great day where the other 5 clubs will make their long journeys over West!
Here are the 18 Harriers members part of the successful West Wales Athletics Team In Newport:
Dwayne Griffiths 400 53.77; 800 2.08.33, Ashraf Liles 800 2.00.58; 1500 4.11.15, Sion Lewis 3000 10.05.74, Sam Bleach DT 28.30; JT 45.70, Williams Edwards HJ 1.90, Zak Daly 400 55.43, Ben Thomas 1500 4.32.49; 1500 SC 4.51.26, Callum Lovatt 800 2.23.09; 1500 4.51.12, Trystan Leech 3000 11.06.46, Haydn Davies 100mHur 14.84, Nicholas Jones HT 23.69, Rhys Thomas HT 23.06, Carys Jones PV 3.35, Alicia Samuel 100 12.60, LJ 4.68 , Celyn Williams 300 41.88, Danielle Jones DT 31.98; SP 10.71, Amy Evans JT 26.74, Amelia Davey JT 20.96 HJ 1.40 + several in the relay teams.
8. Welsh Mountain Championships Llanberis (Sunday 29 May/29 Mai)
Thomas Jones, Iestyn Williams, Ellie Kiff and Amber Howell headed to Llanberis for the Welsh Mountain Championships and came back with four medals - Thomas got gold uphill mountain champion with Iestyn in silver position, Ellie and Amber also both received silver medals over a very tough uphill course in Meol Eilio. They now wait selection for the world youth cup which will be held in Czech Republic very soon.
Thomas, Iestyn, Ellie and Amber...plus Delyth Brown & Carol Jones
9. Carmarthen Junior ParkRun back at Carmarthen Park (Sunday 29 May/29 Mai)
After a successful trial and opening meeting last weekend, the Junior ParkRun was back once again and some of the times below from the second week 29th:
Liam Edwards 07.29; Dafydd Jones 08.08; Ifan Bowen 08.46; Dafydd Waters 08.48; Fflur Thompson 10.51; Lewis Dickinson 11.43 along with Frank Morgan and Maddie Morgan, who were volunteering as support end runners.
Remember that the ParkRun takes place every Sunday morning at Carmarthen Park, 4-14 year olds welcome to attend. Remember to sign up online first!
Results/Canlyniadau Page - Event Competition Results links
**If anybody from the club who ran and is missed out on the above reports, please make sure that you let us know!**
Delyth Brown would like to thank all athletes coaches and parents that attended the West Wales endurance day held Saturday in Carmarthen leisure centre. A few new drills and some different strength exercises were learnt by all. Looking forward to the next one in September, Da iawn i pawb a diolch am y cefnogaeth.