| | | | |
| --- | --- | --- | --- |
| Carmarthen Junior Fun Triathlon 2019 - Popular Children's Sporting Event set to return to Johnstown | | | |
Written by Nathan Jones
Tuesday, 02 April 2019 20:11
Looking ahead to the Carmarthen Junior Fun Triathlon at the end of April / Edrych ymlaen i Treiathlon Hwyl Iau Caerfyrddin ar ddiwedd mis Ebrill
The Carmarthen Junior Fun Triathlon returns in 2019 and will be held at the Carmarthen Leisure Centre on Saturday 27th April, starting at 4pm. The event is again organised by Noelwyn and Sharon Daniel at Healthy Life Activities. It is aimed at giving youngsters aged from 8-14 year olds the chance of taking part in a real Triathlon.
Bydd Treiathlon Hwyl Iau Caerfyrddin yn dychwelyd yn 2019 ac yn cael ei chynnal yng Nghanolfan Hamdden Caerfyrddin ar Ddydd Sadwrn 27ain o Ebrill, yn dechrau am 4 y.p. Mae'n cael ei threfnu gan Noelwyn a Sharon Daniel o Weithgareddau Bywyd Iach. Mae'n rhoi'r cyfle i blant rhwng 8 a 14 mlwydd oed i gymryd rhan mewn treiathlon go iawn.
The event is all about giving Triathlon a go and enjoying which is why the event has two course options to choose from noted below.
The event is non-competitive and the organisers' emphasis is to ensure those youngsters taking part enjoy the experience.
Distances for the two groups / Pellter i'r ddau grwp:
COURSE 1:
50m Swim, 1K Bike Loop, 600m Run
COURSE 2:
150m Swim, 3K Bike, 1km Run
What you need to know / Beth sydd angen gwybod
Parking: There is car parking available at the Leisure Centre grounds with spaces on your right entering the facility on the main road.
Toilets: Public Toilets are available inside the Leisure Centre building.
Spectator Information: There are plenty of areas from which to watch the action. Spectators are not allowed onto the Bike or Run Course and can view the Swim from the Gallery or the Cafe area.
Withdrawals: The event refund policy is available on the event website, Entries are NOT transferable to another person under any circumstances unless authorised by the race organiser prior to race weekend.
Plan ahead: Plan your arrival at the venue the day before, if you have friends and family coming to watch you, agree a place to meet them afterwards. The more you prepare, the more you will enjoy race day!
Registration / Cofrestru
On the day Entries will be accepted if there's any room left and if the 150 limit has not been reached. Registration will be located in the foyer of the Leisure Centre and opens at 2.00pm on 27th April and closes at 3.30pm. What you will be given at registration:
Race Number, Helmet Sticker, Security Wrist Band, Tattoo, Bike Number, Timing Chip, Swim Cap and Triathlon Wales Membership £1.
Race Briefing / Cyn y Dechrau
There will be mandatory race briefing conducted at 3.45pm. This will take place by Transition area. The briefing will last approximately 10 minutes. If you have any questions you are encouraged to ask them before the day of the race by emailing  This e-mail address is being protected from spambots. You need JavaScript enabled to view it .u'; document.write( '' ); document.write( addy_text30200 ); document.write( '<\/a>' ); //--> This e-mail address is being protected from spambots. You need JavaScript enabled to view it k
Course 1 athletes to be at Poolside by 4pm, Course 2 athletes to be at Poolside at 4.45pm.
Swimming / Nofio
The whole event takes place around Carmarthen Leisure Centre grounds. The swim will take place in the fantastic leisure centre which has 8 lanes. You will be asked to wait the other side of the changing room barriers next to pool side - officials will call you to pool side and to the designated lane.
The swim will reflect an open water style event with a Welsh Triathlon swim buoy placed in each corner of the pool. Course 1 will swim 1 lap and Course 2 will swim 3 laps. As this is a fun event, the juniors in Course 2 can exit at the end of any lap. They will exit at the top right and walk out in Transition.
Bike Course / Cwrs Beic
No Parents allowed out on the course - this is for the safety of the athletes. The course will be well signed, marshalled and plenty of red/white tape used as participants cycle around the Queen Elizabeth High School building. Smooth tarmac and flat will make this course easy and suitable for everyone.
Helmets are mandatory and must be worn, clipped up at all times during the bike stage. British Triathlon Rules describe acceptable helmet types and the rules related to this.
You will push your bike to the designated mount line which will be on the road. You will mount your bike when instructed by the marshals. You will cycle on the left side of the road. You will cycle the lap in a clockwise direction around the school following the signs.
Course 1 will do 1 lap and Course 2 will do 3 laps. Once you have finished the correct number of laps, you then re-enter Transition.
Run Course / Cwrs Rhedeg
As you exit Transition having placed your bike in Transition, you will have a 100m run to the running track gate (Carmarthen Harriers Athletics Track). Once on the track you will run the required number of laps of the track.
Course 1 athletes will do 1 lap of the track with Course 2 athletes doing 2 laps.
Transition Area
Please make sure you turn up in plenty of time to allow yourself time to set up your bike and familiarise yourself to how "Transition will work." No Parents or Coaches will be allowed into the Transition Area at any time (located between the Astroturf and swimming pool building) There will be marshals in place at all times to help the juniors.
There is no allocated space in Transition. You can place your bikes on the racking or against the side barriers but please don't obstruct other athletes. This will be open from 2.00pm. You will need to have your bike and your security wrist band on and wear your helmet so the officials can check it is safe. Your transition space is for you to leave your racing equipment only, it is not a place to leave any bags.
You will need your race number to re-enter the Transition area when finished. Once the racing has been completed you will be able to collect your bike.
The Finish / Yn Gorffen
Everyone will get a special FINISHERS medal. There are no trophy categories for this event as the focus is on the FUN factor.
The finish area area will be marked with a large inflatable finish arch. Upon finishing, you will receive your medal and drink.
Enter Online Now and Get Involved / Cofrestru Ar-Lein
Entries can be made online and is now open. To enter more than one child simply choose "Add Registrant" once Child one has been entered. The same email address can be used for each entry.
Please note that the event is limited to 150 participants/entries therefore it is recommended to enter as soon as possible.. Online Entries will remain open if the number has not been reached, and on the day entries will only be available should there be spaces.
ENTER ONLINE HERE / COFRESTRWCH AR LEIN YMA
All competitors who have registered for the event will have received a confirmation e-mail. If you have not received this, or if you are unsure about your entry please email:  This e-mail address is being protected from spambots. You need JavaScript enabled to view it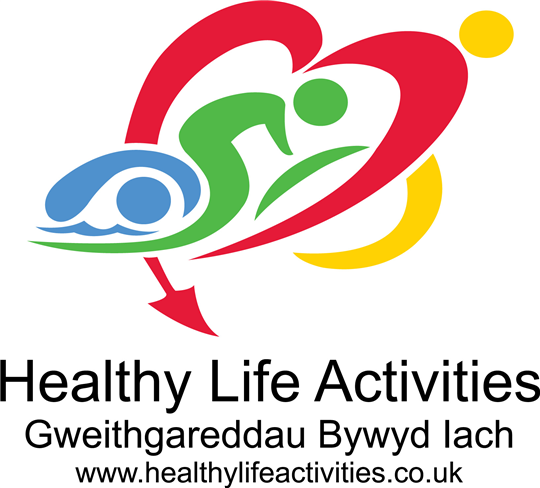 RACE PACK PROVIDING ALL THE DETAILS YOU NEED / POPETH MAE ANGEN GWYBOD
We will also be there on the day tweeting and providing updates LIVE on our social media feed Carmarthen Harriers / @CarmsHarriers from 1pm right through to the conclusion of the event at approximately 6pm.
WHO ARE HEALTHY LIFE ACTIVITIES?
Healthy Life Activities offers the largest diversity of mass sports participation events in the country. Their events cater for individuals of all abilities, age and allow you to set your own challenges. Whatever the challenge you set yourself, HLA have an event to suit you and your family and offering great value for money. Noelwyn Daniel, Sharon Daniel and their team of dedicated volunteers have run these top quality events for a number of years.
Healthy Life Activities are a non profit organisation and organise the event on a voluntary basis. The proceeds are used to cover the cost of the event and also make donations to local charities, community groups and donating sports equipment to local schools.
With 130 events organised over the last 18 years they are also one of the most experienced organising teams and ensures that events are organised with you the athlete at the centre.
HLA also offer plenty of opportunity for children to participate in their events and believe in investing time and effort to ensure as many children take part in events.
All the races are held in the county of Carmarthenshire, where you can enjoy the breathtaking scenery of the Llanelli coastline or experience the amazing agricultural landscape of the Towy Valley. The coal mines have long close in the Amman Valley but this old industrial valley provides the backdrop for the novice triathlon which is a great race for those who have never experienced the thrill of taking part in a triathlon before.
Elsewhere, Healthy Life Activities have set these other following dates/events for 2019:
Amman Valley Sprint Triathlon - April 14th
Carmarthen Mayor's Fun Run 5k & Junior Races - May 6th
Sospan Charity Swim - May 10th
Llanelli Junior Duathlon - May 11th
Sospan Sprint Triathlon Llanelli - British Super Series - May 11th
Llanelli Sprint Triathlon - May 12th
Sospan Sizzler Middle Distance Triathlon - July 21st
Myrddin Junior Triathlon Carmarthen - October 5th

Carmarthen Sprint Triathlon - October 6th
You can find out more about HLA here: http://www.healthylifeactivities.co.uk/ @HL_Activities