| | | | |
| --- | --- | --- | --- |
| October 7th: Indoor Season commences, West Wales Endurance Day & Relay Success... | | | |
Written by Nathan Jones
Saturday, 07 October 2017 21:22
West Wales Regional Endurance Day - 07/10/17
With the competition underway in the Welsh capital, back down the M4, over 20 athletes from West Wales clubs attended the first of the winter's regional endurance day on Saturday 7th October at Carmarthen Leisure Centre. This was ideal preparation for the Cardiff Cross Challenge/Gwent League in seven days time.
Similar to last year, these endurance days focuses on offering information to athletes, coaches and parents. The aim is to provide young athletes with tips about how they can become better all-round endurance athletes.
Welsh Athletics have produced various strength and conditioning exercises and warm up drills, which each of the regions in Wales are demonstrating so that there is cohesion between coaches and clubs in West, East, South and North Wales.
All athletes attending were invited to attend by the Regional Coordinator Delyth Brown along with Sharon Leech. Athletes were mainly from the U15-U20 age groups, with a few U13 also involved. Pete Freeman, Carol Jones, Jake Morgan, Neil Thomas, Andrew Thompson and Jonathan Williams also supported and coached on the day.
Carmarthen Harriers, Pembrokeshire Harriers, Swansea Harriers, Llanelli AC and Neath Harriers were all represented on Saturday.
Following a brief chat and warm up during the first part of the morning, athletes split into three different groups of varying ages/abilities to work on the track alongside coaches.
After lunch, the group headed from the outdoor track and spent the afternoon in the Sportshall at the venue Leisure Centre. There was a strength and conditioning circuit indoors to challenge club runners.
Another opportunity will arise in December when the another endurance day will take place. A further two are hoped to be scheduled between January and April.
ELSEWHERE...ERRA Road Relays, Birmingham, other news to bring you from Wales
It was another fantastic day for the Swansea Harriers senior athletes up at the ERRA National Autumn 6 and 4 stage road relay championships at Sutton Park in Birmingham on Saturday. The day saw races for various age groups, starting with the under 13's going through to the seniors. The best result of the day, with over 100 teams fielded, was the Senior Men as they won the overall male category ahead of their Welsh rivals adding to the 12 stage title earlier in the year. Tonbridge AC and Lincoln Wellington AC in second and third respectively. They found themselves down in 10th position after leg 1 but gradually went up the rankings and won in the end by over a minute in a total time of 1.45.16 with Griffiths producing the fastest time. The team consisted of: Jonathan Tobin (17:37), Marc Hobbs (17:53), Jonathan Hopkins (17:30), Jack Gooch (18:10), Joshua Griffiths (17:26) and Dewi Griffiths (16:40)
Paul Tobin (18:40) and Matthew Harvey (18:50) ran the uncompleted B team.
The defending champions and fellow Welsh Club Cardiff AAC finished off in 7th and 47th positions.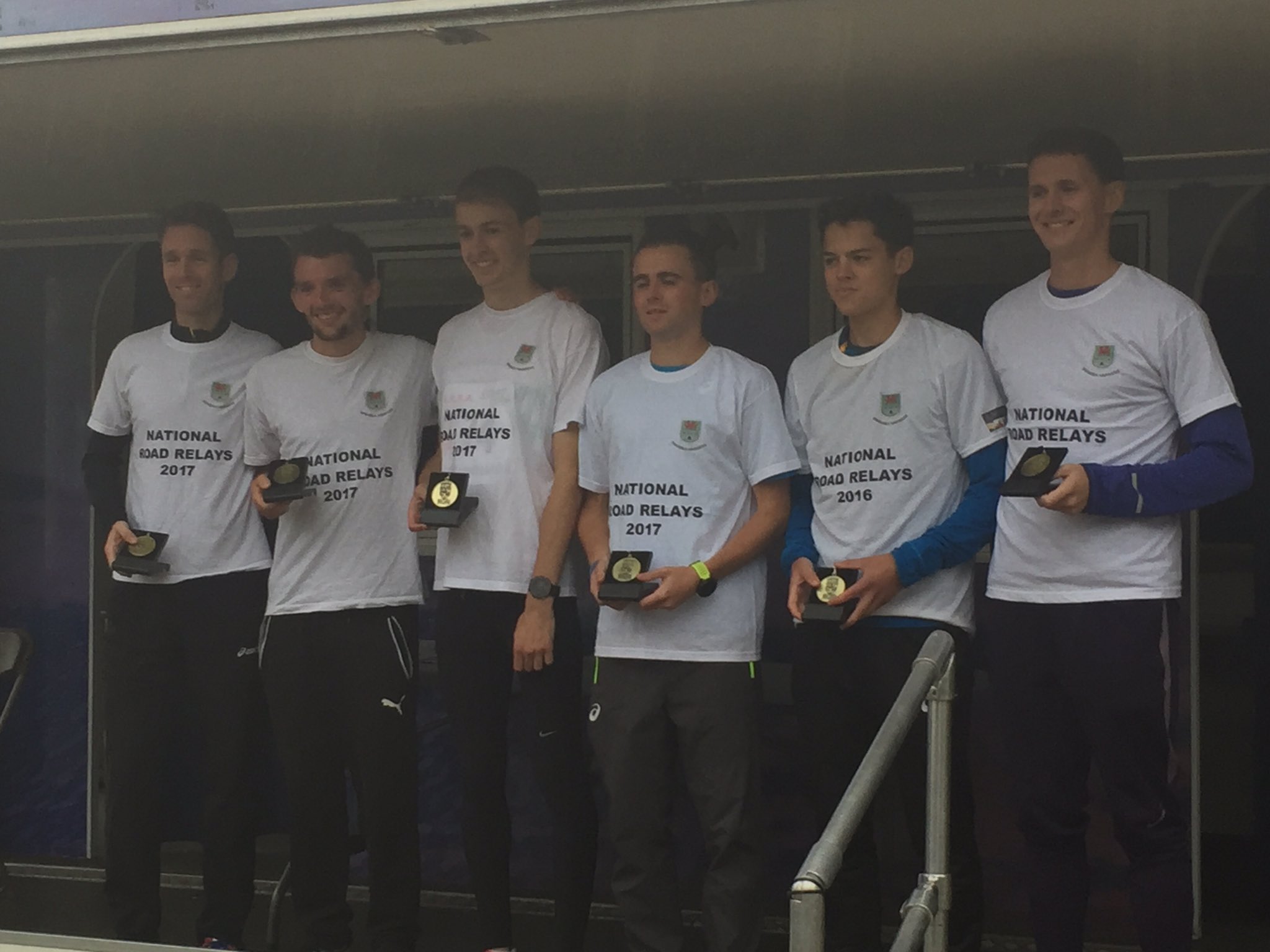 The ladies also got on the podium in third position (Cari Hughes 14:34, Sian Edwards 15:31, Andrea Whitcombe 15:09 and Verity Ockenden 14:12), finishing behind the eventual winners Aldershot, Farnham & District Club and second placed Leeds City AC. Cardiff's women team came in 11th overall.
Swansea's uncomplete B team included: Sian Davies 18:24, Kate Roberts 16:02 and Sian Kirk 17:39. Congratulations to all the region's runners
Welsh Athletics & Welsh Schools Indoor Combined Events Championships - 07/10/17
The Welsh Athletics & Welsh Schools Indoor Combined Events Championships took place on Saturday at the National Indoor Athletic Centre in Cyncoed, Cardiff on Saturday. It has not been long since the dust settled on the 2017 outdoor season, but the weekend brought the opening fixture of the 2017-18 indoor season. The fixture fell on a new weekend this year in the calendar year to fall in line with the earlier date of the Schools Combined Events International in Glasgow on November 10th. Many of those selected in 2016 were in action here hoping to head back to Scotland next month.
U18 and U16 athletes competed in a Pentathlon whilst the U14 athletes contested the Quadrathlon.
A group of athletes from Dyfed schools entered the competition to test themselves against top class athletes from across Wales, many gaining their first experience at indoor events.
Two Carmarthen Harriers coached by Dorrien Thomas - Beca Roberts (Bro Pedr) and Lili Church (Aberaeron) in the under 16 girls' age group continued their fine form after the conclusion of the track and field season. Roberts won a bronze medal by finishing in third overall - her performances totalling a personal best of 2872 were: Long Jump 4.90m; 60m Hurdles 9.82; High Jump 1.50m, Shot 7.74m and 800m 2.38.49. Church matching her teammate with a PB score of 2493 finishing off well in 10th position thanks to: Long Jump 4.16m; 60m Hurdles 10.30; Shot 8.09m and 800m 3.04.18 as well as a big jump of 1.62m in the high jump. This performance was the best out of the under 16 and under 18 girls combined.
They were joined by another three consisting of Pembrokeshire and Llanelli athletes. Completing the day in 8th place was Dyffryn Taf pupil Flavia Jenkins. The high jump competition for these girls turned out to be a success helped by Jenkins' 5th best jump of 1.47m, beating her previous personal best jump four times.
Llanelli AC club friends and Bryngwyn duo Iona Melrose and Amy Mullen stayed close throughout the whole competition matching each other's results with Melrose just coming out on top in 17th (1876) and 18th (1829) respectively.
Elsewhere, Dylan Phillips (Bro Gwaun) won an individual bronze medal in the under 16 boys category scoring 2907 points. He was just 18 points off from gaining silver but clear of the rest of the field. Phillips finished in the top 4 in all five events including winning the shot discipline.
Pembrokeshire young talented duo Jamie Zygadlo (STP) and Lucy Wintle (Preseli) came agoningsly close to confirming their places on the podium, just finishing outside the medals. Zygadlo was fourth in the under 14 category only 70 points off his nearest competitor in bronze position. A fast time of 10.24 in the sprint hurdles gained him points in second overall throughout the three heats.
In the respective age group, the under 14 girls, Wintle also was fourth but clear of the rest of the field. Her final event, 800m run was the fastest recorded by any competitor (2.34.04). Her Dyfed teammate, Chloe Simmonite (Coedcae) from Llanelli AC was close behind in fifth out of 19 entrants. She performed consistently with Simmonite completing a one-two win in the 800m race (2.40.53). In the same age group, Grace Griffiths (Tasker Milward) enjoyed her day competing against the best indoor athletes in Wales finishing off with 738 points.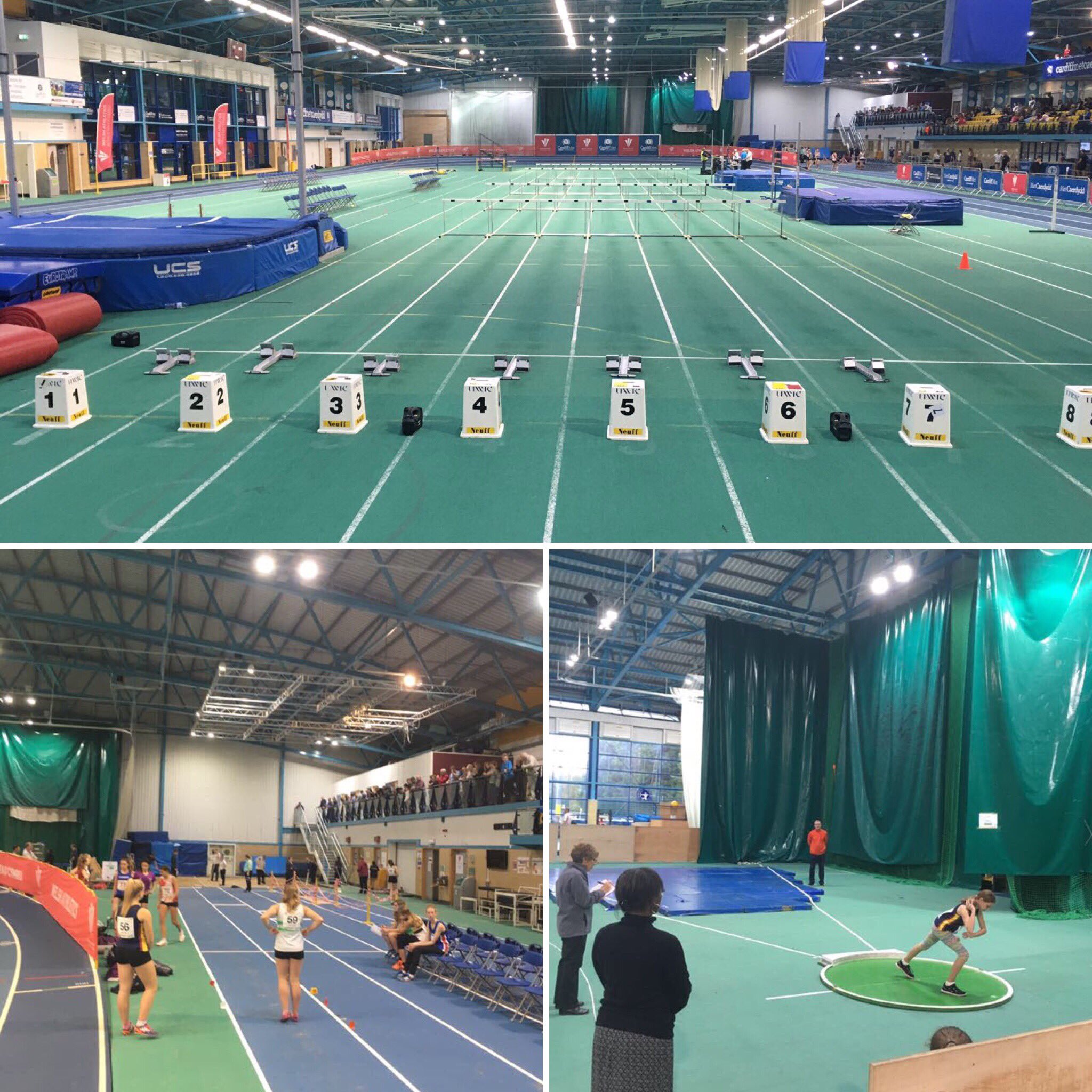 Winning age group athletes went to: Dewi Mock (YG Cwm Rhymni), Ellie-May Wainwright (Newport Harriers), Ben Hillman (Cardiff AAC), Carys Poole (Swansea Harriers), Harri Wheeler Sexton (Cardiff AAC) and Taiya Jones (Cardiff Archers)
Click here for the results. Da iawn i bawb.